Liposuction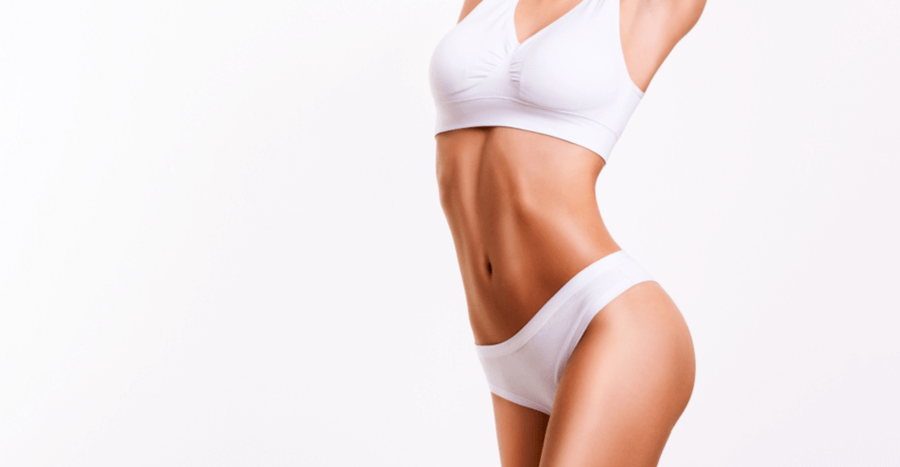 Reduce Stubborn Fat With Liposuction
Liposuction can sculpt your stubborn problem areas that refuse to respond to healthy living. Participating in a strict diet and exercise program is a wonderful means of keeping physically fit and healthy, but if you're also interested in achieving noticeable aesthetic results, you may be disappointed. Stubborn fat cells may refuse to shrink and problem areas such as the thighs, abdomen, hips, arms and neck may not slim the way you had hoped. If you'd like to achieve noticeable improvement to problem areas, you may want to consider liposuction. Dr. Sharon Giese offers a variety of body sculpting procedures, including liposuction, at her Manhattan office, so you can enjoy the body you've worked so hard to achieve.*
Liposuction, also known as lipoplasty and liposculpture, is one of the most popular plastic surgeries available. It can sculpt the body by reducing undesirable fat from beneath the skin. Dr. Sharon Giese uses the most advanced liposuction technique available, ultra-sound assisted method (UAL), to ensure that you achieve skin tightening results in addition to eliminating unwanted fat. Ultrasound technology can stimulate the production of collagen, so even months after having lipo, noticeable skin tightening can continue to occur.* Although effective, liposuction is not a substitute for a healthy diet and exercise but rather an additional factor which contributes to your weight loss plan, helping to reduce areas of fat that are unresponsive to typical weight loss methods.
* Patients individual results may vary.
LIPOSUCTION INSIGHTS
Ideal Candidates
Healthy patients whose diet and exercise attempts cannot sculpt stubborn areas of fat in specific locations, such as the neck, arms, abdomen, hips, and thighs.*
Procedure
Compared to traditional liposuction, ultrasound assisted lipo is less invasive, uses sedation instead of general anesthesia and can promote smoother results.*
Technique Benefits
Dr. Giese uses advanced ultra-sound assisted liposuction (UAL) technology to simultaneously remove fat and promote skin tightening.*
Recovery
Patients may return to work within a few days as swelling and discomfort lessen.*
Results
Stubborn areas of fat can be noticeably smoothed. As time passes, your skin should continue to firm even six months after your procedure.*
Outcome
Liposuction results can help patients obtain the body they've always strived to achieve.*
* Patients individual results may vary.
Patients who qualify for liposuction may also be ideal candidates for Dr. Giese's LipoDetox ™ program "to detox the body from inside out." Dr. Giese performed the original research which demonstrates that liposuction can successfully be integrated into a weight loss program. Many women have large volume liposuction to lose up to two to three clothing sizes.* You can lose more inches per pound with liposuction than with any other method of weight loss when performed in combination with a healthy diet and a regimented exercise program. Liposuction Benefits:*
Targeted Fat Removal
Promote Skin Tightening
Lose Two To Three Clothing Sizes
Less Invasive Than Traditional Lipo
Speak to Dr. Sharon Giese about her LipoDetox ™ program during your personal consultation to determine if you qualify.
If you have predominantly excess skin and looseness of the lower abdomen only, a mini tummy tuck at our NYC on-site, JHACO Accredited, surgical suite might be a better body sculpting option for you. During the mini tummy tuck, the upper and lower abdomen is treated with internal ultrasound for skin tightening. The excess fat is removed by liposuction, and the lower excess skin is removed, resulting in a flatter belly. Occasionally, the stretched lower abdominal muscles are tightened. This stretched muscle, referred to as "spread," usually occurs from being pregnant or is genetic. During the mini tummy tuck, the scar is slightly shorter than a full tummy tuck, and there is no scar around the belly button.  In general, the mini tummy tuck carries less risks than a full tummy tuck but can reduce the excess sagging skin that liposuction alone cannot remove.* Dr. Giese will advise you if you are a candidate for this less complicated procedure during a private consultation.
Dr. Sharon Giese and her staff are happy to schedule a consultation with you about liposuction. For more information on plastic surgery, liposuction in Manhattan and Dr. Sharon Giese, please request an appointment online or call us at 212.421.3400.
* Patients individual results may vary.